2017 Summer Newsletter from Rusty Crow
Hi Quilters,
This year we decided to take the summer off from Quilt shows and spend sometime regrouping, refocusing, and relaxing. Well the relaxing time is over, now it's time to get busy.
We have received our shipment of Yazzii Roll-up Bags. I can't begin to get you about how wonderful these are to store your precious Valdani threads in. Your balls won't roll around and get tangled. They come in 2 sizes and 7 different colors. I'll be offering these to stores for wholesale in the near future, but for now I want my supply to be for you.

. Click here to see the Best Storage Idea for Valdani thread!! They roll-up and velcro close, keeping everything safe and snug. The plastic fishing tackle boxes can go back out into the garage.
The New Rebekah Smith Book, Seasons of Wool Appliqué Folk Art is here and ready for delivery.
Click here to see Rebekah's Book
We have added more notions and gifts as well. I've got the Keychains that everyone loves at the Quilt shows on the website.
I like to include a needle in all my thread orders. Well, many of you seem to love them. I how have them for individual sale on the site. We are boosting our Instagram, Twitter, Pinterest and Facebook presence, please like and share where you can.
I'm having an Open House here Aug. 5th. If any of your are in the San Diego Area that Saturday, we would love to share our home and quilting goodies with you. All fabric, ½ cuts and up are 20% off. The Batty Lady,
Alicia Campbell will be here all set up, so be sure to come say hi to both of us. Open House Info Here
You will get to meet the new Bernese Mountain Dog Puppy, Jango. JuJu will have a new buddy.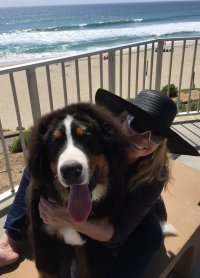 I wish you all the best of the summer days left. Love, Shawn