Happy USA Memorial Day from Rusty Crow
Hello Stitchers,
Just wanted to drop you a line to keep you posted on our progress on our move. Unfortunately, our buyers dropped out of escrow on the last day possible, so the house is back on the market.
We know the right family will come along. Summer in So. Cal is not the worst place to be.
We are still moving forward on thinning our fabric stock. Our Diamond Fabrics are on sale for 9.99 a yard. We are getting some of our missing Valdani colors back in stock.
Valdani is having to use another factory to help with the backorders, so the new Size 8's that we are getting are bigger balls. The colors are a bit different and will be that way for a limited time. I'm loving the difference, the more colors the better. The new balls have a core in the center with the color number printed inside.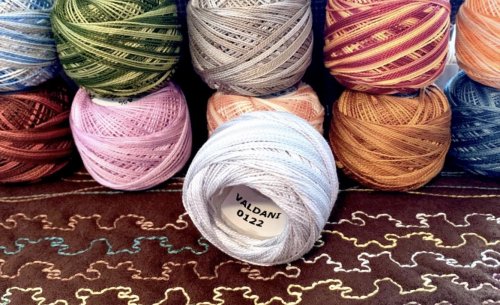 80 meters on these balls, instead of the 67. The price is the same. On my site, you will see New in front of the numbers, so you will know you are getting the new balls.
My USA banner is a kit for 25.00, we have a few thread kits still available for 25.00 Plenty of time to get it stitched up for 4th July. We also have extra Felt Stars and Balls if you want to use your own wools.

I wanted to let you know about a new Stitch Along from the Farmhouse Friends group that I have been a part of it for years now.

The Crazy Seasons project was a super success. So Rhonda is revisiting it again. Here is all the info.


Finally, I want to share with you something personal. I know many families have struggled with a Cancer diagnosis. My Mom is going thur this right now, super early in our journey right now, we will know more in the weeks ahead. I'm not a feeling stuffer, I have share. She lives in Reno with my youngest sister and her family. She loves Reno and has lived there many years. She is very confident with her doctors, and has a positive attitude.
Thanks again so much for being part of our Rusty Crow stitching circle.
Shawn, Mike and the Berner gang.
JuJu is doing great. Hard to keep a great dog down. JuJu is the one smiling.