Dog Days of Summer are here.....Let's Stitch!!!
I hope this summer has been happy and joyful for you all. Mike is in California right now, returning our granddaughter, Bells to her parents. She was with us for a month. We had a great time with her. She was already planning for what to do next summer. I'll have to double up on my vitamins, that girl has a bunch of energy. This is a picture of her at Junior Lifeguards at Kill Devil Hills. She is wearing her mom's life guard hat from years ago. Time marches on....
I'm jumping on tonight, to give you a heads up on a new stitch along.
We are jump starting the Fall stitching with the Pumpkin Village Stitch A long. This was the first week. Here is the schedule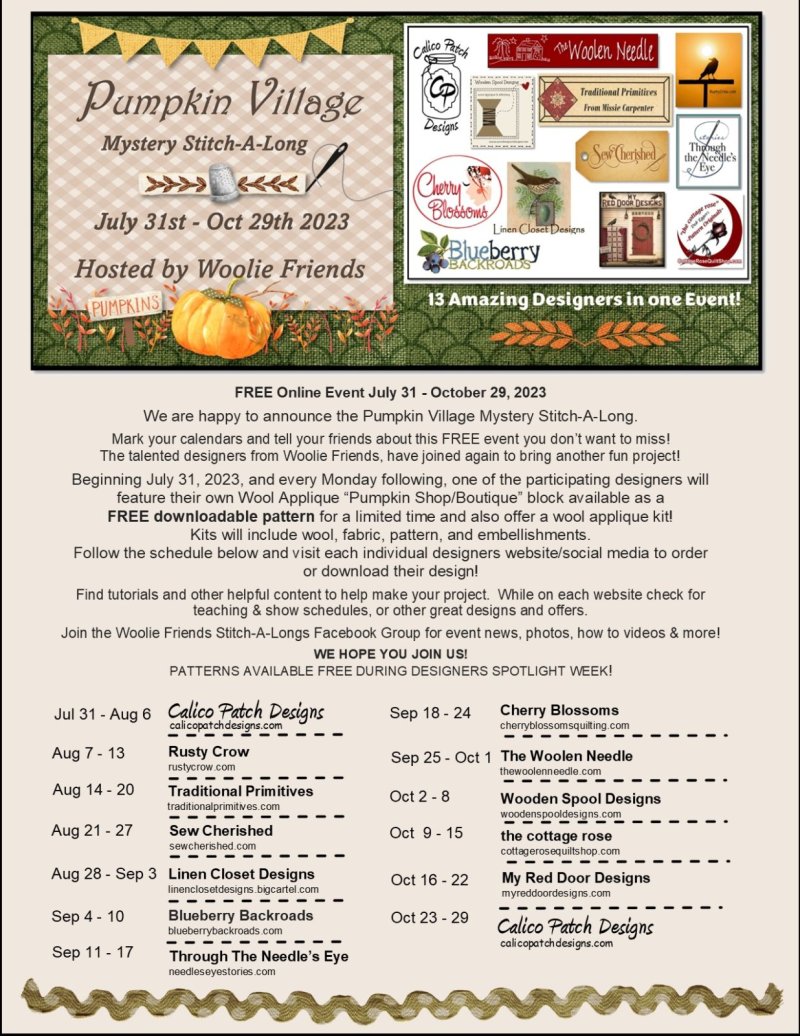 So jump over to Calico Patch and get your free download now. It's only free until Sunday night. She has kits available as well. Darling Block.
Our block will be available on Monday, and is a free download for the week of the release. For those of you who have preordered my block, we got them shipped off today. The Facebook group for this Stitch a Long is called Woolie Friends Stitch A Long. Please join us there. Lots of first time stitchers are in the group. Sorry I can't even give you a peek of my block!! Just going to say I was inspired by the building we bought for the shop in Nags Head.
We have so much new stuff in the shop right now. Our 2 month long All Carolina Shop Hop starts September 1 and runs to the end of October. We do have the Magazine on the site for sale.
We have added so many new Wools on the site. I still have more to put up. Just a heads up, we are going to be increasing the costs of the wool. I have never raised the prices of the wool since we started carrying it, but it has to happen now. Our fat quarters are going up to 14.00 and our 9" X 14" cuts are going to 6.50. We will start the new prices Sept 1, so you have this month to see if you need any colors for your stash.
We have to make room for Autumn and Christmas goodies, so we have the Spring bird themed Crane Designs on sale. Please check them out.
Valdani has added 2 new colors to our collection. O82 Dahlia Dance and O102 Indigo Painting.
We have them in all sizes of Pearl Cotton, 5, 8 and 12's.
So some of you know, cause I see you on Monday nights. But I have been doing a Facebook Live at 6:00 pm east coast time for a few weeks now. We have been stitching along together, working out Simple Sweet book. I have to go pick up Mike this coming Monday, so no Live, but I'll be there next week. I will jump on this next week, to talk about how I created the block that I can't share right now. lol.
We did get boxes and boxes of New Diamond Textiles in. They are still my very favorite fabric of all time.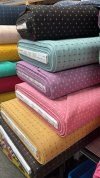 They just add so much more interest for backgrounds with wool applique.
Thanks again for your support. We are so in love with our new island home. I get to see it thru the eyes of the tourists who come into the shop. They just glow with peace and a touch of the sun. They come year after year looking down the road toward the beach until they see this sign and know they are almost there. It's probably more photographed than the lighthouses or the beaches. I'm just grateful that I get to call it home. With love, sand and stitches, Shawn